Customer Reviews
16 Jun 2021
Anonymous

United Kingdom
Excellent!!!
Loved it. Perfect gold
04 Jan 2021
Carrie R.

United Kingdom
Pentart was paste
Really good! Love this item in all its colours, I use a lot of it in my craft work and it's great that it's water based as I can't use solvents of any kind as the strong solvent odour makes me ill. Looking forward to receiving the new colours I've ordered from you. Packaging is great as is the delivery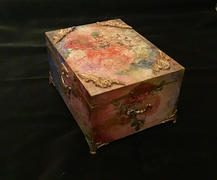 10 Dec 2020
Lorna S.

United Kingdom
Penart Metallic Wax Paste
So easy to use giving great results. Good quality product.
17 Sep 2020
Kelly B.

Canada
Love Metallic Wax Paste
I love this stuff, only a little bit is needed to achieve the effect and it is stunning!
02 Apr 2020
Janet B.

United Kingdom
They are gorgeous
really easy to use and fab customer service/delivery
03 Feb 2020
Jane A.

United Kingdom
Yep, it's wax alright...!
This wax 'rocks' easy to use & great depth & coverage!
26 Sep 2019
ELAINE T.

United Kingdom
pentart do it again
fabulous product great price, beautiful colour and the smell is wonderful too.
13 Sep 2019
Anonymous

United Kingdom
Excellent product
Pentart is a great quality brand. The wax paste is easy to use and the rose petals is a very pretty colour.
Perfect wax paste
These pastes are fabulous. Nice and creamy and so easy to blend. They will also I am sure go a long long way, so also good value for money too
Metallic wax pastel
These are beautiful I just love using them
Metallic Wax Paste
Love it. Very smooth, easy to apply, and the smell well what else can i say a joy to use